Yaya Az lead vocal, backing vocal. Percussions, Joseph F."Dr bass", Jouanel Fender bass, backing vocal, percussions. Al Chonville, drums, percussions.
Senior Jeannet keyboards, backing vocal. Gormos Abdereman, lead guitar.
Jef, rhythm guitar. Aston "Familyman" Barett, guitar and percussions on "Don't follow them, down. Earl "Wya" Lindo, keyboards. Alvin Haughton (courtisy of Rita Marley Music), percussions. Harry T. percussions. Dean Fraser, sax. David Madden, trumpet. Everold Gayle, trombone. Frank airol, trumpet. Tony Greene, sax. Rita Marley, Marcia Griffiths and Loyd Charmer, backing vocal on "Abadambamba"; Light of Love (Anicia Banks, Joy Tulloch, Sharon Tucker), backing vocal. Also playing for Jah Love are Sticko/Legendary Leghon Universal Created Soul.
Recorded at Tuff Gong Recording Studio 56 hope road Kingston, Jamaica.
Recording engineers Errol Brown, Phillip Ziadie, Noel Hearne. Mixed at Tuff Gong by Yaya Az and Think and The E.T. Errol Thompson. Mixing engineers Oswald "Truney" Palmar, Karl Pitterson. Assistant engineers Michael "Sticko" Reid, Cris Le.
Produced by Yaya Az & Think for Aziza KMI. Production coordination Leo Lee.
Cover concept Rosa az, cover design & graphics F. Voisin "Wicked and Will".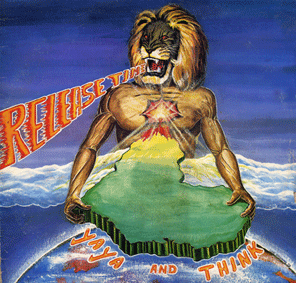 Lead vocals : Yaya A-Z. Drums: Koney Full. Percussions: Toto Junior + Phillippe. Reggae guitar : Salomon x. Lead guitar: Alain Agbo + Yaya A-Z. Still guitar : Toto Senior + Salomon x. Bass : Fafa (Doctor Bass). Keyboards : Patrice L. + Mékongo + Tomi + Fitz Roy + Yaya A-Z. Horns : Ben's + Manga + Prisco + Roger. Flute : Wystracte. Backing vocals : Eva Rocheron + Inno Sorsy + Jocelyne Bérouard, Sinno.
All songs written, composed and directed by Yaya A-Z. Arranged by Yaya and Think.
Recorded at the Johana Studio. Engineer : Gabriel Nahas. Mixed at Johana Studio + Freedom Studio (Nature) by Gabriel Nahas + Yaya A-z.
Cover design : Luis Jeronimo. Graphics by Jeronimo and Yaya A.z.
A Prys Production